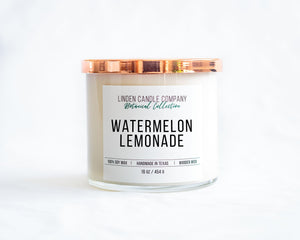 Introducing our sensational Watermelon Lemonade Scented Soy Candle, a tantalizing fusion of summer delights carefully crafted to envelop your space in pure bliss. This hand-poured candle embodies the essence of a sunny season, combining the coolness of watermelon ice, the tanginess of Meyer lemon, and the effervescence of sparkling water accord. It's an aromatic journey that will transport you to a refreshing oasis, leaving you feeling invigorated and uplifted. This is the summer scent that you've been waiting for.

16oz/ 454 g
Burn Time: 90-110hrs
Perfect for large spaces!

Our candles are hand poured with 100% American soy wax, phthalate and toxin free scents and US harvested wooden wicks. Each candle is finished off with a beautiful hammered copper lid. Every candle is handmade in Texas.